Clapp's Mill
There is a memorial to this battle near the Burlington, NC water reservoir. The only remains of the mill are now under the water. A pictures of the dam at Clapp's Mill taken by Grace Thompson is shown below. The man in the photo is her husband A.G. Thompson. They owned some of the land originally settled by John Ludwig Clapp about 1747.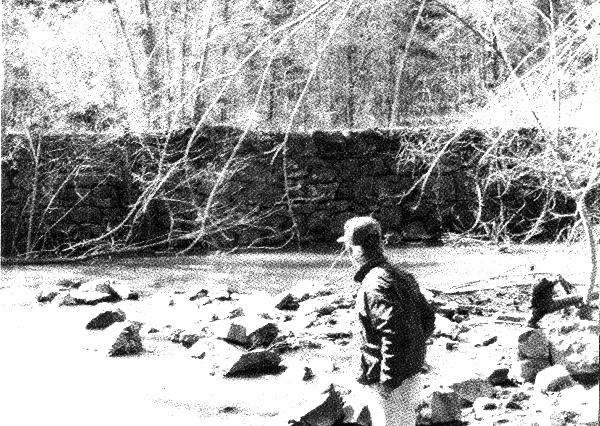 The Battle of Clapp's Mill historical marker near Burlington, NC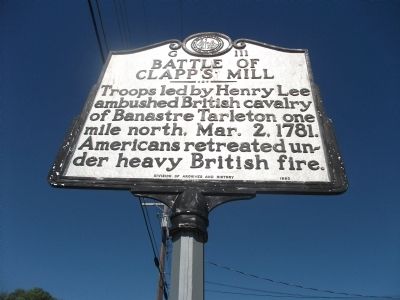 Battle of Clapp's Mill

On March 2, 1781, the American light troops under Colonel Otho Holland Williams of Maryland and Lieutenant Colonel Henry "Lighthouse Harry" Lee of Virginia engaged the British light troops near Clapp's Mill on Beaver Creek. The Americans attempted to lure the British forces, under Lieutenant Colonel Banastre Tarleton, from their camp near the mill (almost one mile southeast of this spot) into an ambush on Alamance Creek where cavalry units and reinforcements lay in waiting. In heavy fighting, at least seventeen British soldiers and eight American militiamen died.
Americans Killed:
Mecklenburg County, NC: militiamen John Ford
David Johnston.
Botetourt County, VA: militiamen William Harvey
Archy Hill
Philip Watkins.
Three unknown Virginia militiamen.
British Killed:
One officer, Sixteen rank & file primarily from the British Guards under Captain Francis Dundas.



Results of the Battle of Clapp's Mill

On March 2, 1781, Major General Nathanael Greene had pulled together various elements of his army into a united fighting force. By his planned attack on the British Army, he indicated his desire for a general action.

It was the first time that General Greene entered into an action with a force superior
| | | |
| --- | --- | --- |
| | By Paul Jordan, February 28, 2010 | |

2. Results of the Battle of Clapp's Mill
in numbers to the British Army. Approximately 5,000 men, British and American troops, were in place or in reserve for the Battle of Clapp's Mill.

While the planned ambush was unsuccessful, it drew Lieutenant General Charles Lord Cornwallis up a longer road to Weitzel's Mill on March 6, and to Guilford Courthouse on March 15. On March 18 Cornwallis led his wearied and depleted troops toward Wilmington and his sources of supply.

Following the Battle of Clapp's Mill, Gen. Greene disbanded the horse rifle units in favor of light infantry and dragoon (cavalry) units.

The events of March 2 and March 6 led to conflict between militia and the command of the Americans army. This friction was fueled by a debate in Congress over the maintenance of a standing Continental Army. Much later this and subsequent misunderstanding resulted in a Uniform Code of Military Justice.



Military Units at the Battle of Clapp's Mill – March 2, 1781

American Light Troops & Commanders – Maj. Gen. Nathanael Greene
Adj. Col. Otho Holland Williams, Field Commander

First Line: Lt. Col. Henry "Lighthorse Harry" Lee – Lee's Legion
Six Catawba Indians, Serving with Capt. Edward Oldham
Botetourt Co., VA, militiamen – Maj. Thomas Rowland
Montgomery Co., VA, militiamen –
| | | |
| --- | --- | --- |
| | By Paul Jordan, February 28, 2010 | |

3. Military Units at the Battle of Clapp's Mill

March 2, 1781
Col. William Preston
Hillsborough District, NC militia – Col. William Moore
Salisbury District, NC militia – Col. Joseph Dickson

Second Line: Delaware Continental Regiment – Capt. Richard C. Kirkwood
Maryland Continental Light Troops – Capt. Edward Oldham

Third Line: 3rd Continental Light Dragoons – Lt. Col. William A. Washington
1st, 3rd, & 5th Maryland Continental Regiments – Col. Otho H. Williams

In reserve: Maj. Gen. Nathanael Greene with American troops positioned south of the junction of Buffaloe Road (US 70) & Cross Creek Road (Springwood Church Road) at the mill of George Ingle on north branch of Alamance Creek.

British Light Troops & Commanders – Lt. Gen. Charles Lord Cornwallis
Lt. Col. Banastre Tarleton, Field Commander

British Left: 33rd Regiment of Foot – Capt. James Ingram
British Middle: Capt. Francis Dundas
1st and 3rd Regiments of Household Guards
The Coldstream Guards
British Right: The Loyal Legion – Lt. Col. Banastre Tarlton

In reserve: South of Beaver Creek, Regiment von Bose & Yagers
Lt. Col. Johann Christian du Buy & the British Artillery.



Militia

On March 2, 1781, the bulk of General Greene's army was comprised
| | | |
| --- | --- | --- |
| | By Paul Jordan, February 28, 2010 | |

4. Militia
of militia units. The American militia were poorly equipped and inexperienced colonists who fought alongside units of the regular army or Continental Line. They faced a battle hardened British Army.

At Clapp's Mill, Field Commander Colonel Otho H. Williams used the militia as bait in an attempt to draw the British army (near this spot) into an ambush on the Great Alamance Creek where American troops were armed and waiting.

After heavy firing ensued on both sides, Col. Williams gave the order to retreat. Lee's Legion retreated slowly to draw the British after them, but the militia panicked and fled from the battlefield. As a result, Gen. Green ordered the militia to send their horses home. Some refused to abandon their horses and left the army.

Although the militiamen from Botetouri Co., Virginia valiantly faced some of the heaviest fighting and took most of the casualties, they were courtmartialed for their departure.

Despite the dissatisfaction with the militia, these volunteers provided numbers sufficient for General Greene and Colonel Williams to execute this attack on the British Army.



Events in the Southern Campaign in the Closing Year of the American Revolution

December 6, 1780 – General Greene takes command of the Southern Army
January 17, 1781 – The Battle of Cowpens
February
| | | |
| --- | --- | --- |
| | By Paul Jordan, February 28, 2010 | |

5. Events in the Southern Campaign

In the Closing Years of the American Revolution
1, 1781 – The Battle of Cowan's Ford
February 3, 1781 – The Battle of Shallow Ford
February 9-10, 1781 – Greene at Guilford Courthouse
February 9-11, 1781 – Cornwallis at Wachovia (the Moravian settlements)
February 14-15, 1781 – Greene crosses the Dan River
February 21, 1781 – Cornwallis establishes headquarters at Hllsborough and raises the British Standard
February 22-23, 1781 - Skirmish at Hart's Mill near Hillsborough
February 24, 1781 - Pyle's Massacre
February 28, 1781 - The British Army moves near Clapp's Mill
March 1, 1781 - American light troops move to the banks of the Alamance
March 2, 1781 - The Battle of Clapp's Mill
March 3, 1781 - British mistakenly attack a group of Tories enroute to join the British Army
March 6, 1781 - The Battle of Weitzel's Mill on Reedy Fork
March 15, 1781 - The Battle of New Garden
March 15, 1781 - The Battle of Guilford Courthouse
March 18, 1781 - Cornwallis departs for Wilmington by way of Snow Camp and Cross Creek (Fayetteville)
April 7, 1781 - Greene departs for South Carolina
April 25, 1781 - Cornwallis leaves Wilmington for Virginia
October 17-19, 1781 - Cornwallis surrenders at Yorktown,
| | | |
| --- | --- | --- |
| | By Paul Jordan, February 28, 2010 | |

6. Clapp's Mill on Beaver Creek
Water Power Operated a Grist Mill and a Sawmill
Virginia



Clapp's Mill

The earliest industrial development in the area involved water power being converted into mechanical energy in the form of a mill. In 1763 Henry McCulloh was granted permission to build a mill on Beaver Creek, a tributary of the Alamance and Haw River system. By 1768 the Clapp family had come into possession of the mill which harnessed the water power to operate a grist mill, a sawmill, and to press flax seed for oil.

This mill was located near the crossroads of several major colonial roads. Near this strategic site, just south of Clapp's Mill, the British Army in February 1781 established a camp. The millsite served as a staging area for the British forces, and the cedar woods to its north served to conceal them in a counter ambush.

American forces, with reserves in place on Great Alamance Creek, moved forward (across the present Pond Road) in a planned ambush on the British. The two powers clashed on the high bluff overlooking Clapp's Mill on Beaver Creek.

Mills like Clapp's Mill flourished along the streams of the Haw River system until the late 1800s when many were merged or ceased production. Many of these mills are the predecessors of the modern textile industry in Alamance County.



The German Community

War between the French King Louis XIV and
| | | |
| --- | --- | --- |
| | By Paul Jordan, February 28, 2010 | |

7. The German Community
his enemies brought devastation to southern Germany in the early 1700s. Opportunities to possess land in Penn's Colony and in Virginia brought a German speaking community to America in the 1730s.

Land speculation by the Earl of Granville and Henry E. McCulloh attracted German settlers to the banks of the Haw River system in North Carolina. These hard working immigrants established themselves as a distinct community by the beginning of the American Revolution. Foundations had been laid for churches and schools, and theirs was a vibrant economy.

The German community was solidly behind the Regulator movement's desire to end government corruption. In the American Revolution, community opinion was divided. Both armies occupied their lands and made demands upon their goods and services and threatened the continued existence of this "Beaver Creek Settlement."

Many German colonists, from the Stinking Quarter to Reedy Fork, served with the American army.

Colonel Otho H. Williams wrote to General Nathanael Greene, "We have a great many friends upon the Haw River. I hear of a great number of men in arms in almost every direction and wish to see them collected."



Erected

1994 by Battle of Alamance Chapter, DAR and Alamance Battleground Chapter, SAR.



Location.
| | | |
| --- | --- | --- |
| | By Paul Jordan, February 28, 2010 | |

8. Millstone and Circle of Granite Markers
36° 2.108′ N, 79° 31.607′ W. Marker is in Burlington, North Carolina, in Alamance County. Marker can be reached from Huffman Mill Road. Click for map. Located at Lake Mackintosh. From Interstate 85/40, travel south on Huffman Mill Road. Cross the bridge over the lake, turn left into the main entrance. The first paved drive on the right takes you to the historical marker. A beautiful location for boating, fishing and picnicking. There is a children's playground nearby. Marker is at or near this postal address: 2704 Huffman Mill Road, Burlington NC 27215, United States of America.



Other nearby markers.

At least 8 other markers are within 6 miles of this marker, as the crow flies. A different marker also named Battle of Clapp's Mill (approx. 1.7 miles away); Battle of Alamance (approx. 1.9 miles away); Alamance Cotton Mill (approx. 2.2 miles away); Trading Path (approx. 2.3 miles away); Tryon's Camp (approx. 4.7 miles away); Elon University (approx. 4.8 miles away); Dentzel Carousel (approx. 5.3 miles away); Pyle's Defeat (approx. 5.5 miles away). Click for a list of all markers in Burlington.



More about this marker.

A memorial millstone marker circled by granite story boards and maps relates the March 2, 1781 battle at Clapp's Mill.

At the head of the paved walkway leading to the circle of markers is a pile of stones from the Clapp's Mill Dam. The dam was built around 1765 on Beaver Creek.

Also featured is a cornerstone from Clapp's Mill.

An American flag and a Union Jack fly over the monument.
| | | |
| --- | --- | --- |
| | By Paul Jordan, February 28, 2010 | |

9. Troop Positions at Start of Battle

From map by Captain Joseph Graham




Regarding Battle of Clapp's Mill.

*Typographical error on the marker. The reference to "Lighthouse Harry Lee" refers to Lieutenant Colonel Henry Lee, III who was nicknamed "Light Horse Harry" for his prowess on a horse in the Revolutionary War.

Lee's forces served at the Battle of Guilford Court House, the Battle of Camden and the Battle of Eutaw Springs. He was present at Cornwallis' surrender at Yorktown. Lee attained the rank of Major General and led 13,000 troops leading troops in The Whiskey Rebellion.

In 1791, he became the ninth Governor of Virginia. He was the father of Confederate General Robert E. Lee.

The above information is from: http://www.hmdb.org/marker.asp?marker=28062



*********

In the Encyclopedia of the Amer. Rev. by Boatner it
says: " Mar 2, 1781 - During the period of maneuvering that
preceded the Battle of Guilford C.H., forward elements of
the opposing armies made contact for the first time on the
Haw River near Clapp's Mills. Lee does not mention this
brisk skirmish in his Memoirs, but Greene reported that on
Mar. 2 "Lee, with a detachment of [ Col. Wm. Campbell's
Va.] riflemen, attacked the advance of the British army
under Tarleton, and killed and wounded, by report, about
thirty of them." Bass says Lt. Col. James Webster's Brig.
routed the riflemen from thickets on both sides of the road
and that Tarleton's cavalry pursued. These forces met again
(before the Guilford C.H. battle) at Wetzell's Mills on the
6th of March, 1781."