Now located in the Big Ridge State Park north of Maynardville, Union Co., TN. Sharp's Station, founded in the 1780s was one of the first two settlements west of the Appalachian Mountains. The other was James White Fort in Knoxville. A stone wall is all that remains of Sharp's Station fort, but a plaque commemorates the area.
In the 1780s, a German pioneer named Henry Honas Sharp (5th Great-Grandfather) (1735-1814) established Sharp's Station on the banks of the Clinch in what is now the northern section of Big Ridge State Park.
Peter Graves, (4th Great-Granduncle) son of John Sebastion Graves (5th Great-Grandfather), was killed and scalped by Indians near Sharp's Fort, 13 Nov 1794. He was the first white man buried at Sharp's Fort. Sharp's Station itself was attacked the following month, although the settlers successfully fought off the attackers. Sharp's descendants were still in possession of the land when TVA began buying up the property in the 1930s.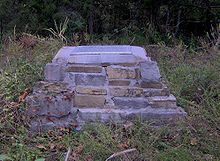 Sharp's Station Monument in Big Ridge Park